CASE STUDY
Living Life By A Thread
At the age of 12, Bithi was sent by her family to work in a garment factory. For the last 3 years, Bithi has worked with thousands of Bangladeshi children piecing together designer jeans destined for Canadian stores, and other high-income countries.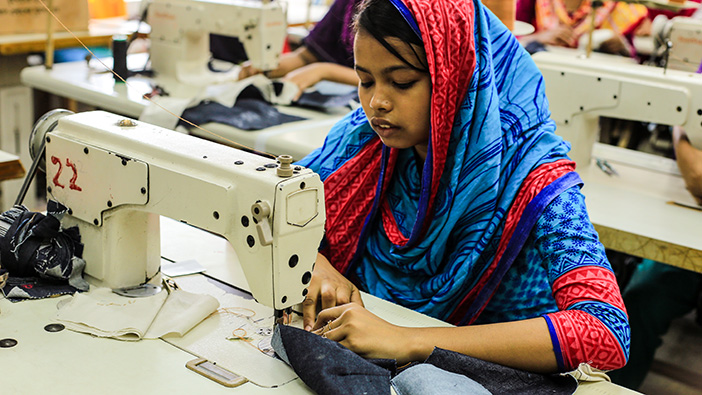 On her first day of work, Bithi cried. "The first day I felt bad, I thought it wasn't good. I was too small. I was surrounded by other older people," she remembers. But that was three years ago, when she was 12. Now, it's routine – no more tears are spilled. 
 60 pockets an hour
Every day, Bithi helps create a minimum of 480 pair of pants, for just over $1 USD a day.
 "60 pockets an hour," the 15-year-old behind the sewing machine explains.
Squished inside a second story room with 20 other Bangladeshi women, the girl hunches over her machine while fluorescent lights beam hard overhead. Like so many other places, sub-contracting jobs from other larger garment factories – and government policies about child labour go unheeded.
Trying to make ends meet
It is often common for families in impoverished conditions to take desperate measures, in order to simply survive. Bithi's mother, Feroza, is no exception.  She is unapologetic about starting her two oldest daughters in garment factories before they were even teenagers.
Feroza juggled domestic work and ran a bag making business, in order to support her six children. Still, ends wouldn't meet. Food was begged and borrowed from charitable family members and neighbours. One time, Feroza's husband was sick and couldn't work. The family was in a crisis. So she did what her parents did to her when they arrived in Dhaka decades ago, and Bithi has been working ever since.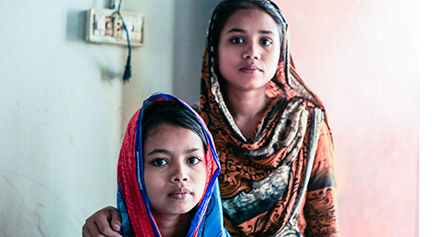 Dashed dreams
Although Bithi does not complain, she cannot deny her deep longing to go to school. When Bithi sees other girls her age in their blue and white checkered school uniforms, she admits to feeling "painful, my heart breaks." At one point, Bithi dreamed of being a doctor, just like her older sister, Doli. But both girls have now put those dreams aside, in order to face their hard-hitting reality.